Sunday, 5 August 2018
A bee on a flower at Ickworth, near Bury St Edmunds, Suffolk yesterday.
Thursday, 17 March 2016
As members of the National Trust, we are very lucky to have several properties with fine grounds nearby. Today, as the sun was shining, we went to Ickworth not far from Bury St Edmunds. Although there were lots of lambs, the daffodils are still not out, in the main. A few are, but most are still in bud. All the NT places nearby are very different. We also made use of our free "tea for 2" voucher which came with a card.
Thursday, 11 February 2016
This afternoon we enjoyed a walk at Ickworth, a lovely National Trust property near Bury St Edmunds. It is about 20 miles from home. The sky was mostly sunny, but it occasionally popped behind the clouds. It was about 7 deg C. We saw some tree creepers (birds).
Friday, 15 January 2016
After what seems like ages, the sun shone, we had a real winter day (cold and frosty) and we visited the National Trust grounds at Ickworth near Bury St Edmunds and did a walk down to the bridge. Unlike at Anglesey Abbey, there were no signs yet of spring flowers. It was muddy off the main paths. There were even signs of snow.
Saturday, 29 November 2014
Yesterday, as the weather was mild and sunny, we decided to visit the grounds of Ickworth House, a National Trust property near Bury-St-Edmunds. It was very autumnal there with most trees now without leaves. Come the spring it will look quite different.
Saturday, 9 August 2014
This morning, in the glorious sunshine at Ickworth, we walked down through the
meadow in the old walled garden to the lake at the bottom of the hill past the little church, which is now restored and open.
The round trip is about 1.7km measured with my Samsung phone's GPS (see map on LHS). This far from my farthermost walk since my brain bleed, but it was very pleasant nonetheless.
The forecast for tomorrow is bad with lots of rain and winds - a day to stay at home.
The meadow at Ickworth in the old walled garden
Tuesday, 25 March 2014
See:
https://www.nationaltrust.org.uk/ickworth/
.
Lambs outside the little church at Ickworth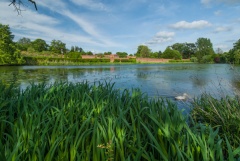 Part of the extensive grounds
Ickworth House and its extensive grounds are located not far from Bury-St-Edmunds in Suffolk. The grounds make a fine place for walks that vary in length from less than a mile to over 7 miles in length. At this time of year there should be plenty of daffodils and young lambs. My wife and I hope to go there this afternoon and walk to the newly restored little church on the estate about 500m from the main house. Although wobbly, I should be able to manage this. The image (LHS) is located at
http://www.britainexpress.com/counties/suffolk/Ickworth_House.htm
.
Very young Ickworth lamb enjoying the sunshine
Part of the main building is nowadays a 4 star hotel called
The Ickworth Hotel.
UPDATE 1645z:
Plenty of lambs at Ickworth but the daffodils are 1-2 weeks behind those at nearby Anglesey Abbey 25 miles west.